Who We Are

First and foremost the Community Church of Issaquah is a Christ-Centered Church. We believe in Christ as one who revealed God as our loving Heavenly Father who saves us by His grace. John reminds us that "No one has ever seen God. It is God the only Son, who is close to the Father's heart, who has made him known" (John 1:18, NRSV).

We are also a church which sees ourselves as a Family of Believers. Calling ourselves a family implies acceptance of each other with all our flaws. Each person is called by God to "shine" in their own unique way. The Apostle Paul said that the church is like a body which requires (does not just tolerate) difference! – The ear is not like the eye, the leg is not like the arm, but all are necessary and work together (see 1 Corinthians 12:4-27.) What kind of church would help YOU to really shine?

Part of being a family church is being an Inclusive Church. We are presently a small church made up of mostly older members. We are PROUD of our older people! Their faith has deep roots. But being inclusive means that our interests in attracting people to our fellowship go well beyond those who are already here. We are reaching out to young people and young families.  We are also reaching out to different ethnicities. We believe the church should reflect the Kingdom of God where we are told by Jesus, "I tell you, many will come from east and west and will eat with Abraham, Isaac and Jacob in the kingdom of heaven…" (Matthew 8:11, NRSV). We believe that in Christ's Kingdom all are saved by grace, challenged by Scripture, and part of the family, regardless of age, sex, ethnicity, or sexual orientation.

And the Community Church of Issaquah is a Faith and Justice Church. We believe that an important part of showing Christian faith is caring for people in need, and we look to Christ's promise, "Come you that are blessed by my Father, inherit the kingdom prepared for you from the foundation of the wold; for I was hungry and you gave me food, I was thirsty and you gave me something to drink, I was a stranger and you welcomed me, I was naked and you gave me clothing, I was sick and you took care of me, I was in prison and you visited me" (Matthew 25:34-34, NRSV). The Community Church of Issaquah has followed this directive of our Lord by contributing to Seattle's Union Gospel Mission, the local food bank, by fighting human trafficking, and by helping with youth in need in Mexico.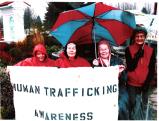 "To me, faith in Jesus Christ that is not aligned to social justice -- that is not aligned with the poor -- it's nothing."

    -Bono (lead singer of U2)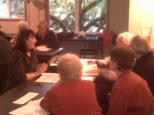 Studying and sharing at our annual Spiritual Life Retreat at Camp Burton on Vashon Island.